The day I left my job for Swoveralls
Author Kyle Bergman / Published: Nov-20-2019
The title of this article is a little dramatic, and intentionally so (click bait!). As much as I'd love to tell you about a time when I announced to the office, "I"M OUT - NEXT STOP. COMFY LAND!", it didn't quite work out like that.  
I want to start off by saying I can't thank Katia Beauchamp (Co-Founder of Birchbox) enough for instilling a culture where side-hustles are not only welcome, but encouraged. I was able to mitigate so much risk by testing out demand for my idea while still working full-time at Birchbox. Don't get me wrong, I was still putting in 10 hour days as a part of the BirchboxMan merchant team, but I didn't have to keep my side-hustle a secret to my colleagues. In fact, I even gave Katia a pair of Swoveralls - she loves them! (I think).
That said, as my brand continued to grow and gain more and more traction, it took up more and more of my time, which also came at the expense of my responsibilities to Birchbox. I remember being in a marketing meeting where we were reviewing Father's Day creative assets when I received a Google Alert about a Thrillist article about Swoveralls that had just been published. I wanted to get up and scream, but instead had this out of body experience where I sat there and continued to participate in the meeting as if nothing had happened while a company I had created 6 months earlier just received a huge press hit.
It became very difficult for me to think strategically for Birchbox and do my job, while also think as a business owner for my own brand (forget about b-school and Orangetheory). Like a modern day, corporate meets entrepreneur version of Jekyll and Hyde.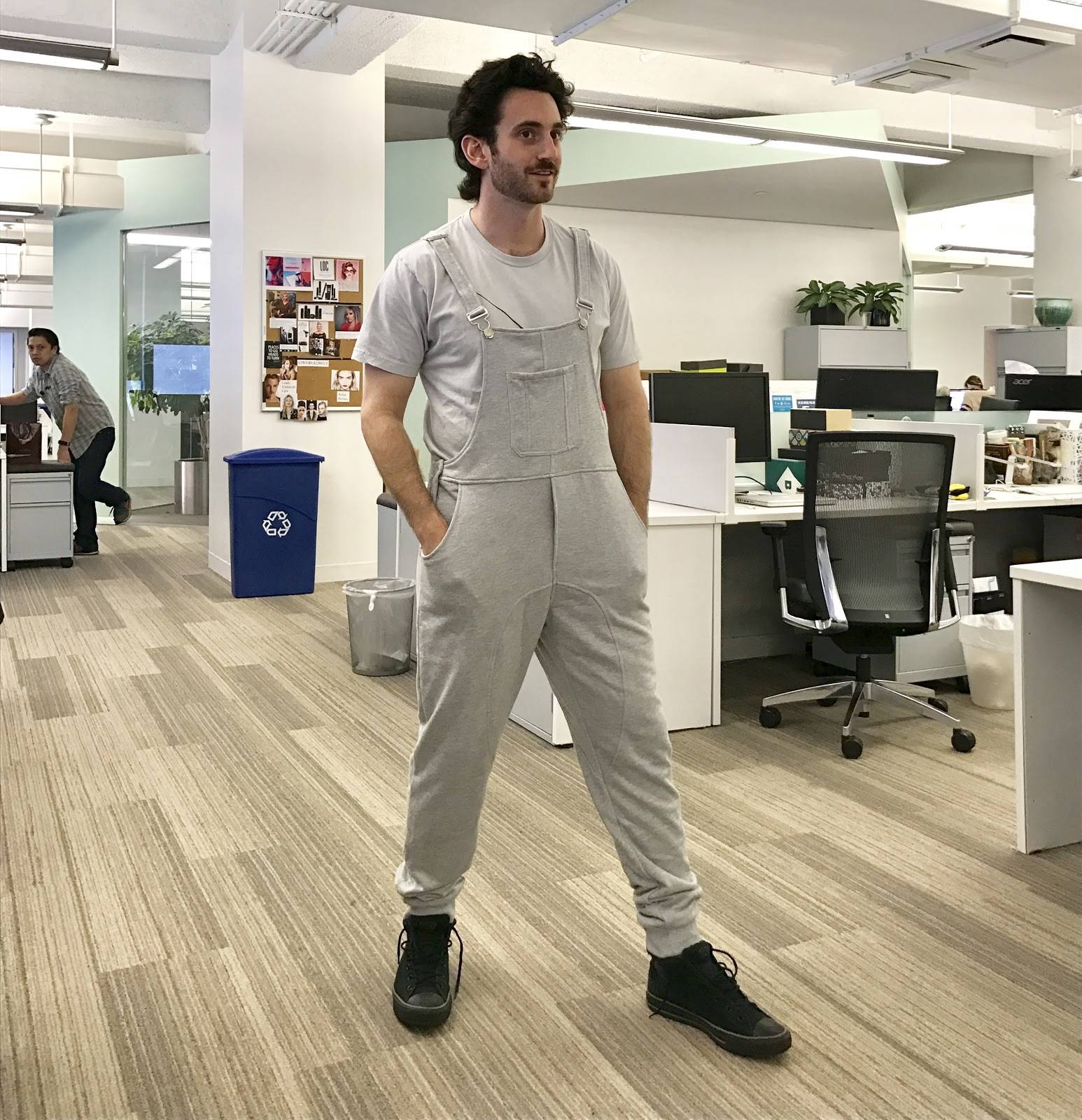 Me in the Birchbox office wearing the first sample ever.

The moment I realized there just might be a business opportunity with Swoveralls
happened when I discovered the Google Keyword Search Planner. I believe it was my Strategy Professor Rob Seamans at NYU that told us about this device, but I'm not 100% certain! Anyways, once I realized other people aside from my sister Jenna and girlfriend Elizabeth might also want sweatpant overalls, I used this tool to see roughly how many people were looking for this term online. In the month of March 2017, this tool showed that between 100-1,000 people were also looking for sweatpant overalls. That was enough "market research" for me to seriously explore the opportunity further.
A screenshot of the actual page where it showed me the demand for people looking for "sweatpant overalls" in March 2017
A part of me was shocked, but after I thought about it...it made sense - probably a little awareness created from the BuzzFeed article, but more importantly, people just like me were looking for an awesome, comfy combo.
Amazon's FBA service
Once I realized I had a supplier, and there was some sort of demand for this unique apparel item that didn't exist, I knew the only way I would have any chance of selling sweatpant overalls was through Amazon's fulfillment service.
Living in a shoebox apartment in NYC, I didn't have any room for inventory, nor did I want to spend my time picking and packing orders….or finding a warehouse that would do the same. Additionally, I didn't have any experience or budget to do a meaningful marketing campaign, but I knew Amazon would help me overcome these obstacles by
1.) holding my inventory in their warehouses
2.) listing my product on their site
What I didn't realize is that you needed a legitimate business to start an Amazon seller's account, and so I incorporated The Great Fantastic, LLC. in March 2017.
Why The Great Fantastic? Well, I knew I didn't want to pigeonhole myself right out of the gate with a company name like "Sweatpant Overalls, Inc."...so I chose a funky term that I thought could one day could become an amazing brand. Taking a trip into the great fantastic is something my Mom would say when referring to risk-taking and adventuring into the unknown.
It always stuck with me, and I thought it was such a cool term that could comprise the vibe and message I was trying to communicate..which was something like, "We don't take ourselves too seriously, but we don't mess around when it comes to comfort."
Funding the business
But how did I initially fund it? Well, in order to pay for business school, I had to take out a bunch of student loan money. For better or worse, I took out too much money for my first term and received a disbursement to my bank account for the funds that were not used for tuition, which was about $10,000.
A rationally-minded individual would send that money back to the lender as it'll lower your student loan debt. I decided to use this money to kickstart my sweatpant overalls project, and used most of it to pay for my first order from overseas.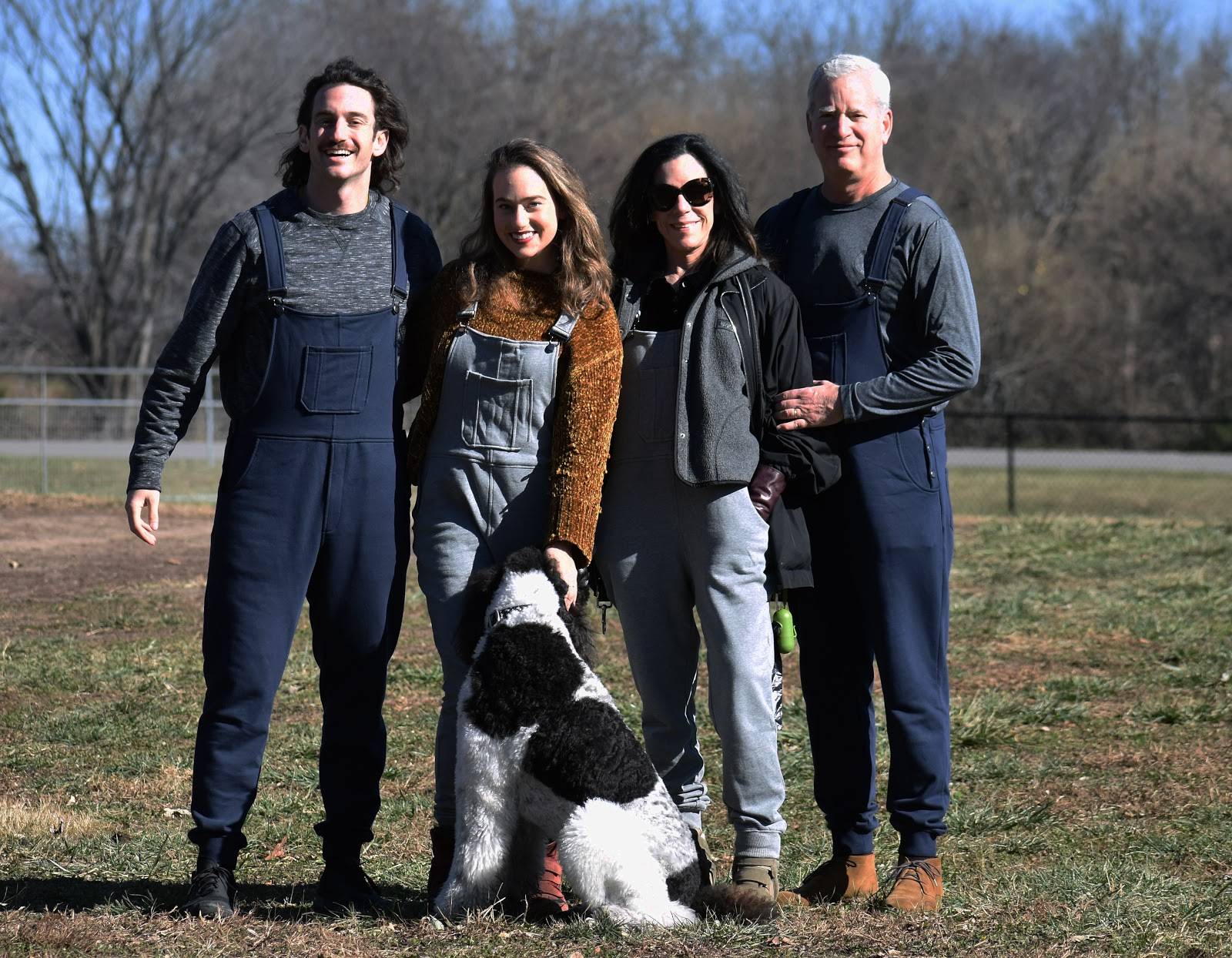 Me with my Sister, Mom, Dad, and Dr. Honig (the family pupper).
And a brand was (kind of) born
I say kind of because what started out as a personal problem, and then a fun side-hustle/school project has turned into a real business. My main objective these days (aside from creating enough inventory to meet demand) is to understand the new WHY. Solving a personal problem doesn't cut it anymore. That problem is solved, but there's still something deeper there. Comfort, sustainability, inclusivity...these are all of the concepts that are not only important for me, but also values that I think should be top of mind for the brand. Onward!
Thanks for reading :)
Kyle
Have a question, comment, suggestion, offer? I'd love to hear from you. Email me directly at kyle@thegreatfantastic.co