Comfy Customer of the Month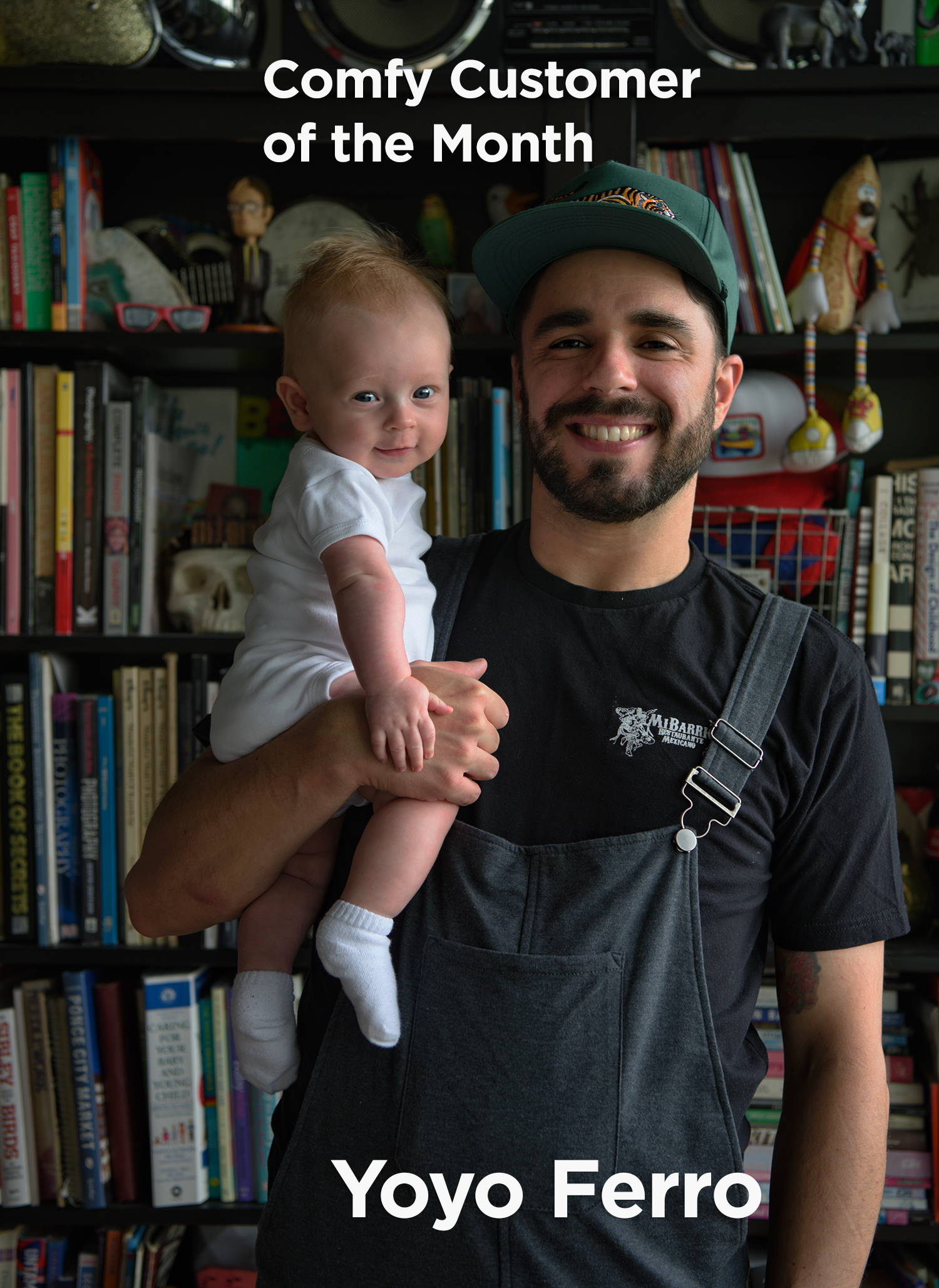 Swovie Nation!
Please meet Yoyo Ferro - An incredibly talented artist and proud Swoveralls tribe member. Check out more about Yoyo's story below.
Chief Swoverall Officer Kyle: Yoyo I'm pumped to have you on here! Thank you for allowing us to feature you. I remember your first ever Swoveralls order coming in because of the uniqueness of your name. A short while after I came across your instagram handle and was amazed with your artwork. In fact let's start there. Can you tell Swovie Nation what exactly you do for a living?
Yoyo Ferro: Thanks Kyle, I'm a visual artist based out of Atlanta, Georgia and most of what I enjoy making are large scale murals on the street, gallery paintings, and digital illustration.
---
"Swoveralls, in being sweatpants overalls, adds a certain silliness to the outfit, like a 'why not? I do what I want' sort of vibe, which I love."

---
K: What's a typical day like for you?
Y:My wife and I just had a baby so our "typical day" sort of changed a bit
since Louie was born. He is one of the "pandemic babies" that were born in
the midst of all this mess on last April… so my days start with some quality
down time with the baby and coffee. I reserve nighttime for making art, so
my creative day starts around 5-6 PM, work on emails, ship orders from my
website, and work on new illustrations, paintings, bagging prints/stickers,
preparing for my next Post Office run, and also planning for next mural
projects. I basically run a small operation by myself, so if you bought
something from me at any point be sure I helped make it happen.
K: How do Swoveralls fit into your life right now?
Y: During pre-COVID times I rocked Swoveralls inside and outside the
house… I got a black and a grey and they were great in the winter. Since
COVID started, the weather has been quite hot so I just ordered a pair of
Swovie Shorts so I can keep this going during Summer
---
K: What do you love most about your Swoveralls?
Y: There's something about overalls in general that gives you this sense of freedom as it makes you feel like you're not wearing pants (ha). I also think that Swoveralls, in being sweatpants overalls, adds a certain silliness to the outfit, like a "why not? I do what I want" sort of vibe, which I love. I also wear regular overalls to paint murals but they're usually so heavily made to stand harsh conditions, made with canvas material and not comfortable… Swoveralls are the dream lounge outfit. I get compliments and questions from random people every time I go out on my Swoveralls.
---
---
K: Anything else/interesting you'd like the Swoveralls Family to know about you?
Y: Yesss, besides working on a ton of commission works, I'm currently painting my next gallery solo art show titled MASTERPIECE, this show follows my first solo show that happened last December, titled COLOR-FULL (see details here).
COLOR-FULL show sold out in the first night and we were very proud of it as we put it all together independently from any galleries - that enabled me to sell paintings with more affordable pricing while still making me feel
good about the value of my work. Many of the folks that bought artworks said that those were their first "real art" that they invested for their homes, so it was a pretty awesome feeling of accomplishment along with great feedback we got about the show.
I'm hoping to replicate the same DIY approach to MASTERPIECE. The new paintings are looking great, and you can check my work on my website at www.yoyoferro.com or on instagram HERE.


Much love to you all
-Yoyo Ferro.
---
---
Thank you, Yoyo!
And to YOU, Comfy Reader - Thanks for being apart of our story! And for making it this far on this page :). As a thank you, please feel free to use code YOYO for 20% off your entire order.
Yours in all that is Great and Fantastic,

Founder & Chief Swoverall Officer
Have a question, comment, suggestion, offer? I'd love to hear from you. Please feel free to email me directly at kyle@thegreatfantastic.co