Comfy Customer of the Month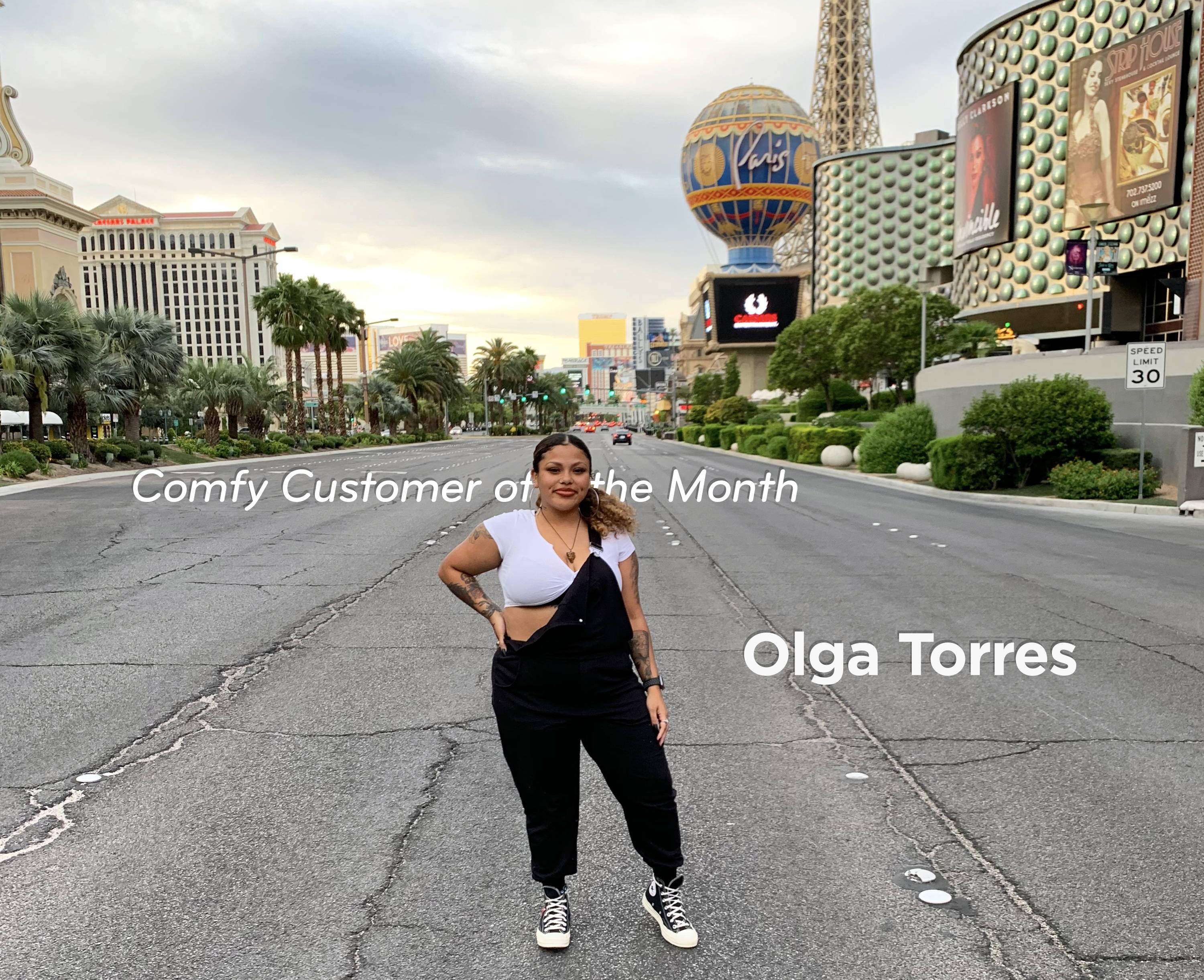 Swovie Nation!
Our pleasure to introduce you to Olga Torres - Recent law school graduate and proud Swoveralls tribe member. Read below to learn more about Olga and what she's up to.
Chief Swoverall Officer Kyle: Olga thank you so much for letting us feature you as our Comfy Customer of the Month. I remember when you first tagged us in a pic on IG and I thought to myself, 'whoa this customer has amazing style, I wonder what her story is?' and here we are! Let's start with the basics, what do you currently do for a living?
Olga Torres: Thank you again for selecting me, Kyle. I'm a recent law school graduate, and I am currently a legal intern for Thomson Reuters as I study for the bar to become a criminal defense attorney.
"I love the versatility. Swoveralls can be dressed up or dressed down."

K: Very cool. What's a typical day like for you?
O: On a typical day I'll wake up and do some cardio outside before it gets too hot. Then I'll shower and make a smoothie. After that I'll work from home. Once I'm done working I like to watch a show before I begin to study for the night. After studying, I'll do anything that helps me wind down; usually I'll stretch and meditate before jumping into bed and catching up on my favorite shows.
K: How do Swoveralls fit into your life right now?
O: I love my Swoveralls. Pre-COVID I would wear my Swoveralls to class or I'd dress them up a little for a night out. I actually wore them for the first time to the airport because I wanted to be comfortable yet still look stylish. Now, because of COVID, I'll wear my Swoveralls just about every chance I get. Vegas is pretty hot right now yet I can still wear them out because they are pretty lightweight. So now, I'll wear them lounging around the house, running errands, or even if I'm going to dinner.
K: What do you love most about your Swoveralls?
O: I love the versatility. Swoveralls can be dressed up or dressed down. I've been able to wear my Swoveralls to the airport, to dinner, to the park, to bars, to protest, and just around the house.The hidden zipper is also one of my favorite things, if you don't want to carry a bag, you can simply use the hidden pocket for safekeeping.
K: Anything else/interesting you'd like the Swoveralls Family to know about you?
O: I have 2 main passions, one is fashion and the other is social justice. Although I am one step away from becoming an attorney, I hope to still incorporate fashion into my future. Whenever I can, I like to style people and/or help them locate articles of clothing that they're looking for to complete their look. Because I am passionate about social justice, I have co-founded LiberatedLasVegas.com, a site aimed to provide educational resources and a directory of Black-owned businesses.
Olga reppin' the one-strap all-day everyday
And there you have it, the one and only Olga Torres sharing a little of her journey through the great fantastic with us. Check out Olga's site, and we also want to use this time as a friendly reminder about our Swoveralls for Justice public spreadsheet that exists to help educate, inform, and support the fight against social injustice.
And to YOU, Comfy Reader - Thanks for being apart of our story! We can't wait to launch more Swoveralls and other comfy things soon!
Yours in all that is Great and Fantastic,

Founder & Chief Swoverall Officer
Have a question, comment, suggestion, offer? I'd love to hear from you. Please feel free to email me directly at kyle@thegreatfantastic.co