Comfy Customer of the Month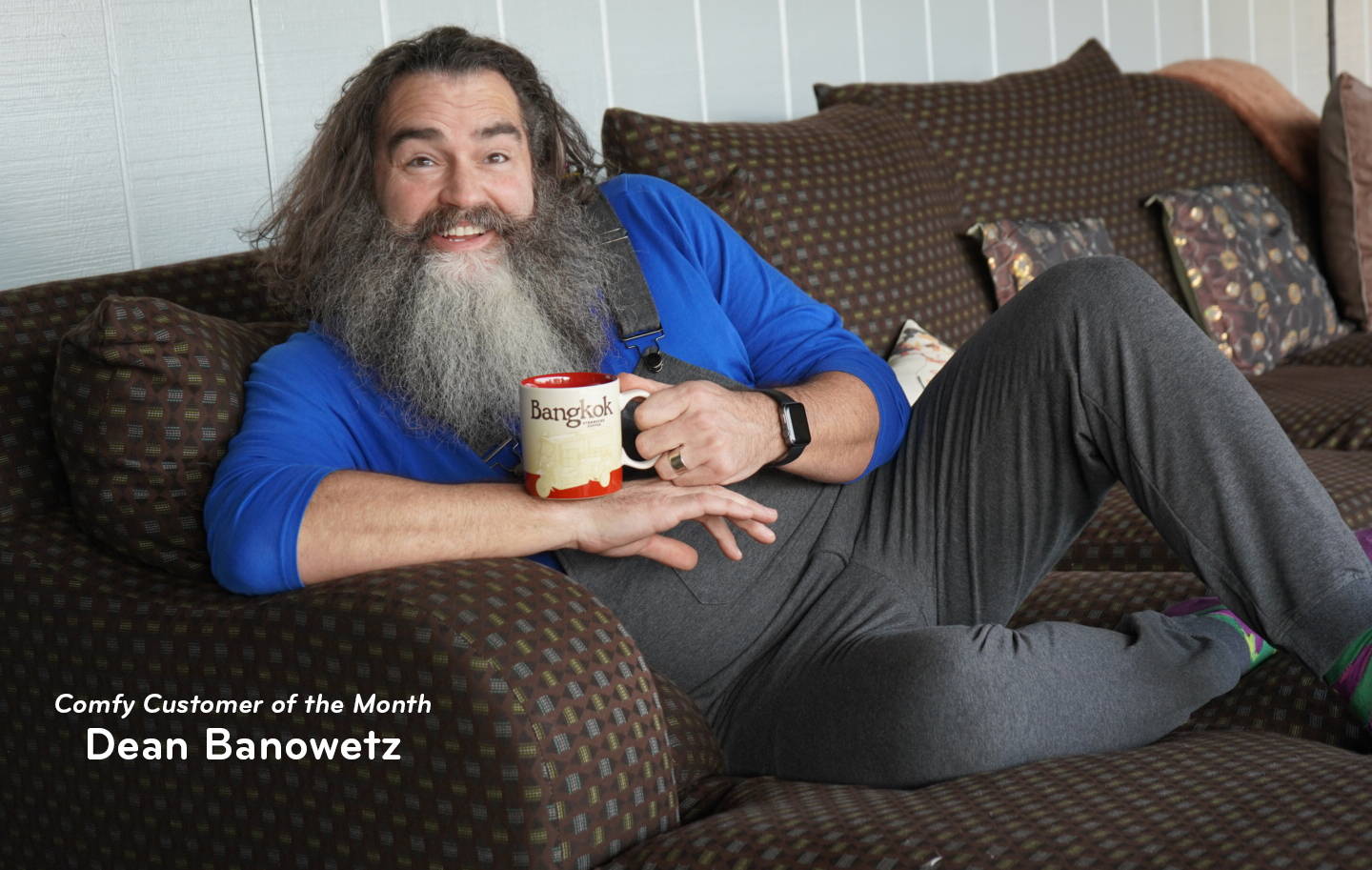 Swovie Nation!
Meet Dean Banowetz! - Los Angeles based celebrity stylist and proud owner Swoveralls tribe member. Dean and Kyle first met after Dean saw Kyle pitching the Sharks on Shark Tank, and he's been an amazing customer ever since. As the Department Head on shows like American Idol, World of Dance, and America's Got Talent...Dean knows a thing or two about how important it is to be comfortable when performing in high-stress situations.
Chief Swoverall Officer Kyle: Dean! Thanks so much for being our 3rd ever Comfy Customer of the Month! Let's start off with your crazy jobs and schedule as I think you have a very interesting life. What's a typical day like for you as Department Head on so many shows?
Dean Banowetz: Thanks for having me Kyle! My typical work day depends on the show. I usually have a call time of 4am on SYTYCD (So you think you can Dance) and I may go in at 8am on America's Got Talent. I am responsible for the creative work of my team to create looks for the shows I am on. I usually finish on set around 7pm and head home. I may work on some projects once I get home but what usually happens is I grab some supper and then hit the shower and try to meditate to get ready for bed.
"My first Swoveralls purchase was a pair of the Midnight Black so I could wear them on set. I personally love all the pockets to hold what I need"

K: Wow that's a long day! Anything change since the Pandemic?
D: My quarantine day looks very different. I usually automatically wake up at 5:30am and make some coffee and slowly start my day. I will give myself until 7:30 to lounge in bed and read. I like to try and stay away from my phone or tv until after 8am. I have put a paper calendar by my front door so I can remember what day of the week it is. I plan on working on a project for at least 3 hours a day. I am currently working on my 2nd book the "Dean's List of Bridal Dos" to compliment my first book "The Dean's List of Daddy Dos" which is a self help step by step guide for dads to do their kids hair available on Amazon. Then the rest of the day I am doing something for my mental health be it working on a puzzle, organizing, jeweling my toilet bowl brush holder, organizing or reading and journaling. My goal is to always be in bed and lights out by 10pm.
K: How do Swoveralls fit into our life both now and before the crazy pandemic?
D: Pre Covid....my first Swoveralls purchase was a pair of Black ones so I could wear them on set. We have to wear "Stage Black" clothes so if you happen to be in the background during a shot you are less noticeable. Usually it is freezing on set when we go into work on the sound stage, and by mid day it starts to warm up a bit so that is when I just slide the jogger cuff legs up to my knees for some leg exposure. I personally love all the pockets to hold what I need.
During Covid I wear a pair of Swoveralls at least 4 times a week. Super comfy and they feel amazing on your skin and as long as I am in quarantine and can't hug anyone my Swoveralls hug me at least 4 times a week! Swoves are my fave to lounge in and read perfect outfit for puzzles and crafts as well!
K: What do you love most about your Swoveralls?
D: 1st of all I love how they feel on my body soft and comfy and appropriate to wear in public. 2nd the secret zipper pouch is also one of my favorite features. 3rd they are fun and colorful and people compliment me all the time on how they look. Machine washable is fabulous also.
K: Anything else you'd like Swovie Nation to know?
D: Little story about a Saturday night out with my best friend. I really wasn't in the mood to go to a bar because it is always such a scene and after awhile I get a bit bored. My bestie who was visiting insisted on going so I threw on my grey Swoveralls and went with him to the bar. This was my first time wearing my swoves to the bar but it will NOT be the last. That night I was hit on a lot and literally every person commented on the swoves!!! Best bar night ever so far!!
And there you have it. The one and only Dean Banowetz taking us through his best life. And guess what! You can use code DBANO15 for 15% off your entire order - thanks Dean!
And to YOU - Thanks for being apart of the comfy movement! We can't wait to launch more Swoveralls and other comfy things soon!
Yours in all that is Great and Fantastic,

Founder & Chief Swoverall Officer
Have a question, comment, suggestion, offer? I'd love to hear from you. Please feel free to email me directly at kyle@thegreatfantastic.co