Comfy Customer of the Month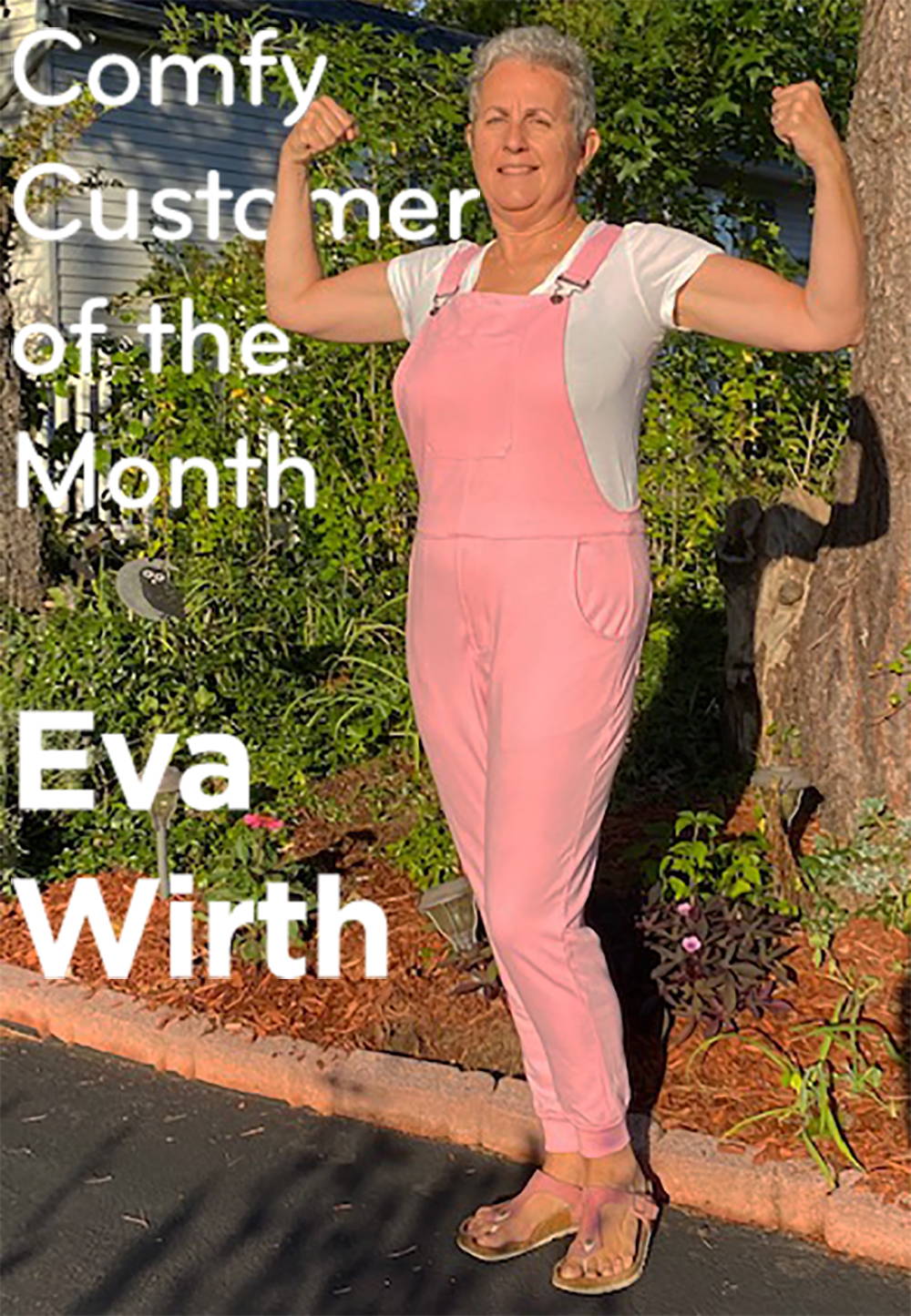 Swovie Fam,
Please meet our October Comfy Customer of the Month - Eva Wirth.
Fun Fact: Eva is actually solely responsible for making the Limited Edition Pink Swoveralls partnership with Young Survival Coalition come to life. Without Eva, we wouldn't be able to partner with such an incredible organization, and support their mission (while making a bunch of people very comfy).
Breast cancer survivor, volunteer, and proud member of Swovie Nation, Eva is one special human. You can learn more about her below (and also sign up to find out when we launch our Pink Swoveralls too!).
Kyle: Eva! Wow such a pleasure and honor. Thank you so much for connecting us with the Young Survival Coalition team, and helping us bring the Pink Swoveralls to life. I'm excited to share a little of your story with the rest of the Swoveralls Family.
Eva: Kyle thanks for having me. It makes me very happy to see you and YSC working together.
K: Let's start with the basics. What are some things you're currently working on?
E: I'm in between jobs at the moment. You know doing the whole job search thing is more of a job than my old job ever was.  I am also doing a ton of bike training as I prepare for a 100-mile bike ride for the Young Survival Coalition Tour de Pink ride. Due the pandemic this year the rides were cancelled, but I still plan on getting my 100-mile bike ride in.  Anyone interested in learning more can check it out here. I've also been volunteering a bunch with God's Love We Deliver - which is a non-profit helping feed those who are too sick to cook or shop for themselves.
K: Wow that's amazing. So what's a typical day like for you?
E: I get up early, and I like to eat a nutritious breakfast. I'll then go and check out all of the job boards, and then I usually will go get a bike ride in. After a nice ride I'll reach out to a friend or family member and catch up. As tough as a year as its been, I'm thankful every day that I'm healthy and able to connect with my friends, family, and community.
K: How do Swoveralls fit into your life right now?
E: I am a person that likes to wear comfortable clothes that are a little looser, yet look good, and that you don't have to fuss around a lot with. Swoveralls definitely fit the bill. You can dress them up or dress them down and wear them around the house. I love wearing them with my pink Birkenstocks and I can just feel 100% comfortable. And the fact they're pink is awesome.  I mean how many pairs of pink overalls do you see? Not many.
---
"I just really like the way the fabric feels."

K: What do you love most about your Swoveralls?
E: I just really like the way the fabric feels.
K: Well said! Anything else you'd like Swovie Nation to know?
E: Despite how bad you think the year has been count your blessing, and be thankful for your health your family and friends. Everything else will follow.
---
Thank you so much Eva for sharing a little of your story.
Eva has had an incredible career in the NYC financial-services industry, and is looking for exciting job opportunities and is #opentowork. An amazing volunteer, Eva is very active within the Young Survival Coalition organization as well as God's Plan We Deliver food service. If you are interested in connecting with Eva regarding employment opportunities she would love to speak with you, and can be found on linkedin HERE.
Thanks all!
---
Honored to have you in the fam, Eva!
Are you looking for a pair of Candy Pink Swoveralls so you can get cool and comfy like Eva?
Look no further. You can click HERE to visit the product page and sign up for the in-stock notification. Pink Swoveralls will be available for purchase in a couple weeks, and if you sign up now you'll be the first to know when.
Thanks for reading, and as always...stay safe, and stay comfy,

Founder & Chief Swoverall Officer
Have a question, comment, suggestion, offer? I'd love to hear from you. Please feel free to email me directly at kyle@thegreatfantastic.co